داروساز ایرانی
اطلاعات مفید برای دانشجویان داروسازی
دوشنبه دوم دی ۱۳۸۷
Applied Therapeutics 
The Clinical Use of Drugs
9th-2008
لينك فايل :
http://www.4shared.com/file/153818591/e1f6aac/Applied_Therapeutics_-9th-2009_wwwpharmacistsir_.html
يا
"دوست و همكار عزيزم دكتر اسماعيليان لينك ديگري هم از كتاب applied روي سرور مگاآپلود تهيه ديده اند:"
http://www.megaupload.com/?d=MC2TRW04
و یا از : (با تشکر از دکتر محسن ابراهیمی، رزیدنت تاکسولوژی)
http://www.mediafire.com/?m1l1d1dy3ndu8as
توضيحات فايل :
اين فايل بصورت فشرده شده با فرمت rar است (براي اجرا به برنامه  WinRar و يا برنامه هاي مشابه نياز دازيد)
Password : www.pharmacists.ir
فرمت كتاب : CHM (نياز به برنامه خاصي براي اجرا آن نداريد و خود ويندوز مستقلا فايل را اجرا ميكند)
حجم : 40 مگابايت فشرده - 40 مگابايت CHM
تعداد صفحات : 3040
Bookmarked : Yes
---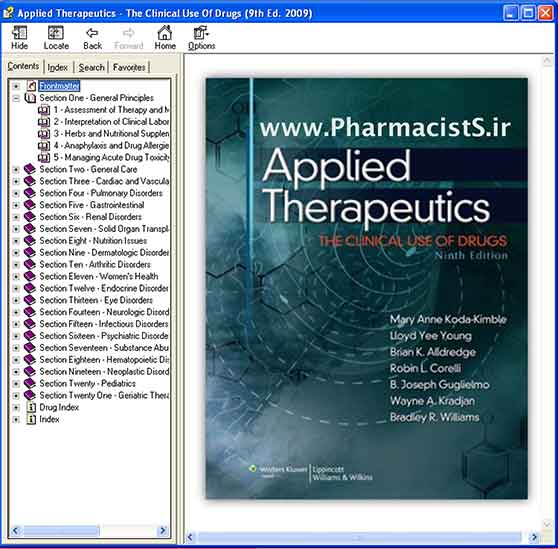 ---
It has been nearly 35 years since the first edition of Applied Therapeutics: The Clinical Use of Drugs was published. The use of case studies served as a founding principle for this innovative text and remains integral to the current edition. Our authors present patient cases that stimulate the reader to integrate and apply therapeutic principles in the context of specific clinical situations. We also strive to provide students and practitioners with a glimpse into the minds of clinicians who are assessing and solving therapeutic problems so that they too can develop and refine their own problem-solving skills. All chapters in this edition have been revised and updated to reflect our changing knowledge of drugs and the application of this knowledge to the therapy of patients.
Today, it is more critical than ever that health care providers make informed decisions regarding the clinical use of drugs. As our population ages, more people carry the burden of multiple chronic diseases. New knowledge about pathophysiology and drug targets has expanded our approaches to drug therapy and, in many cases, polypharmacy has become the standard of care. This, in turn, increases patient exposure to adverse medication events. Meanwhile, we observe a health care system under considerable stress. Shortages of nurses, pharmacists, physicians, and other health care providers interface with remarkable new technologies, increased costs, and decreased access to care. Ironically, the number of disadvantaged and underserved populations continue to increase at a time of remarkable economic growth. This underscores the importance of finding better approaches to managing escalating costs while enhancing the quality of care provided. Systems and approaches to care that guarantee freedom from medical errors (including medication errors) are urgently needed.
The authors have drawn much information from the literature, current standards, and their clinical experiences to share how one might think about making sound and thoughtful therapeutic decisions. However, it remains the responsibility of every practitioner to evaluate the appropriateness of a particular opinion in the context of the actual clinical situation, keeping in mind any new developments in the field. We strongly urge students and practitioners to consult several appropriate information sources when working with new and unfamiliar drugs.
In the past decade, new roles for the pharmacist have emerged. More and more frequently the pharmacist is placed in increasingly responsible positions within the health care delivery system. In this capacity (s)he is able to have a significant influence on the quality of health care delivered to the patient. M. Silverman and P. Lee have skillfully assessed the current and future role of the pharmacist in Pills, Profits and Politics.1
"… It is the pharmacist who can play a vital role in assisting physicians to prescribe rationally, who can help see to it that the right drug is ordered for the right patient at the right time, in the right amounts and with due consideration of costs and that the patient knows how, when and why to use both prescription and non-prescription products.
"It is the pharmacist who has been most highly trained as an expert in drug products, who has the best opportunity to keep up-date on developments in this field and who can serve both physician and patient as a knowledgeable advisor. It is the pharmacist who can take a key part in preventing drug misuse, drug abuse and irrational prescribing."
Many schools of pharmacy have made substantial curriculum changes to prepare their graduates for these responsibilities. Although traditional pharmacy courses have imparted factual information about drugs, they have not enabled the students to apply these facts to the drug therapy of patients. Similarly, traditional pharmacology and medical textbooks do not provide the professional with sufficient information to make a judgment regarding the selection and dosing of a particular product for a specific patient. To arrive at this decision, the clinician must consider a number of patient factors, including age, renal and hepatic function, concurrent disease states and medications and allergies. (S)he must also consider drug product factors, including bioavailability, pharmacokinetics, efficacy, toxicity, risk to benefit ratio, and cost.
We have found that students have most difficulty in integrating and applying the multiple components of their education to formulate the safest, most rational drug regimen for a given patient. We have also observed that although the student is able to enumerate the adverse effects on a drug, (s)he is unable to recognize or monitor for these effects should they occur in his/her patient.
This text is an outgrowth of the clinical pharmacy courses taught at the University of California and at Washington State University. The major objective of these courses is to enable the student to practice effectively in the clinical setting. Lectures on the pathophysiology and medical management of disease states are supplemented with conferences where students are challenged with drug therapy questions frequently asked by physicians and by case histories, which require drug therapy assessment and the selection of appropriate alternatives. The objective of these conferences and this text is to enable the student to identify relevant factors in drug treatment, such as the probability of whether or not a specific drug is responsible for a patient's symptoms; the clinical significance of a drug interaction; why a specific drug is not achieving therapeutic blood levels; the dose for a patient with multiple disease states.
The success of the conference portion of our courses was a major determinant of the format used for this text; case histories that simulate the actual practice situations and frequently asked therapeutic questions are followed by well-referenced responses.
The authors have drawn much information from their clinical experiences. It remains the responsibility of every practitioner to evaluate the appropriateness of a particular opinion in the context of the actual clinical situation and with due considerations of any new developments in the field. Although the authors have been careful to recommend dosages that are in agreement with current standards and responsible literature, we suggest the student or practitioner consult several appropriate information sources when dealing with new and unfamiliar drugs.
---
01 Assessment of Therapy and Pharmaceutical Care
02 Interpretation of Clinical Laboratory Tests
03 Herbs and Nutritional Supplements
04 Anaphylaxis and Drug Allergies
05 Managing Acute Drug Toxicity
06 Pharmacogenomics
07 End-of-Life Care
08 Nausea and Vomiting
09 Pain and its Management
10 Perioperative Care
11 Acid-Base Disorders
12 Fluid and Electrolyte Disorders
13 Dyslipidemias, Atherosclerosis, and Coronary Heart Disease
14 Essential Hypertension
15 Peripheral Vascular Disorders
16 Thrombosis
17 Ischemic Heart Disease: Anginal Syndromes
18 Myocardial Infarction
19 Heart Failure
20 Cardiac Arrhythmias
21 Hypertensive Emergencies
22 Shock
23 Asthma
24 Chronic Obstructive Pulmonary Disease
25 Acute and Chronic Rhinitis
26 Drug-Induced Pulmonary Disorders
27 Upper Gastrointestinal Disorders
28 Lower Gastrointestinal Disorders
29 Alcoholic Cirrhosis
30 Adverse Effects of Drugs on the Liver
 31 Acute Renal Failure
32 Chronic Renal Failure
33 Renal Dialysis
34 Dosing of Drugs in Renal Failure
35 Kidney, Liver, and Pancreas Transplantation
36 Heart and Lung Transplantation
37 Adult Enteral Nutrition
38 Adult Parenteral Nutrition
39 Dermatotherapy and Drug Induced Skin Disorders
40 Acne
41 Psoriasis
42 Photosensitivity and Burns
43 Gout and Hyperuricemia
44 Rheumatic Disororders
45 Connective Tissue Disorders: The Clinical Use of Corticosteroids
46 Contraception
47 Obstetric Drug Therapy
48 Treatment of Menstrual and Menstrual-Related Disorders
49 Climacteric and Postmenopause
50 Thyroid Disorders
51 Diabetes Mellitus
52 Eye Disorders
53 Headache
54 Parkinson's Disease & Other Movement Disorders
55 Seizure Disorders
56 Cerebrovascular Disorders
57 Principles of Infectious Diseases
58 Antimocrobial Prophylaxis for Surgical Procedures
59 Central Nervous System Infections
60 Endocarditis
61 Repiratory Tract Infections
62 Tuberculosis
63 Infectious Diarrhea
64 Intra-Abdominal Infections
65 Urinary Tract Infections
66 Sexually Transmitted Diseases
67 Osteomyelitis and Septic Arthritis
68 Traumatic Skin and Soft Tissue Infections
69 Prevention and Treatment of Infections in Neutropenic Cancer Patients
70 Pharmacotherapy of Human Immunodeficiency Virus Infection
71 Opportunistic Infections in HIV-Infected Patients
72 Fungal Infections
73 Viral Infections
74 Viral Hepatitis
75 Parasitic Infections
76 Tick-Borne Disease
77 Anxiety Disorders
78 Sleep Disorders
79 Schizophrenia
80 Mood Disorders I: Major Depressive Disorders
81 Mood Disorders II: Bipolar Disorders
82 Psychiatric Disorders in Children and Adolescents
83 Eating Disorders
84 Drug Abuse
85 Alcohol Abuse
86 Tobacco Use and Dependence
87 Anemias
88 Drug-induced Blood Disorders
89 Neoplastic Disorders and Their Treatment: General Principles
90 Adverse Effects of Chemotherapy
91 Hematological Malignancies
92 Solid Tumors
93 Hematopoietic Cell Transplantation
94 Pediatric Considerations
95 Neonatal Therapy
96 Pediatric Immunizations
97 Pediatric Infectious Diseases
 98 Pediatric Nutrition
99 Cystic Fibrosis
100 Geriatric Drug Use
101 Geriatric Dementias
102 Geriatric Urological Disorders
103 Osteoporosis
نوشته شده توسط هادی(نوید) اخوت پور در 0:33 دوشنبه دوم دی ۱۳۸۷ |
لینک مطلب
نظرات :